Accent your Gardens with our Decor!
Because Life Should be Beautiful!
Shop in the comfort of our large greenhouse display.
By displaying our decor indoors, it remains in new condition.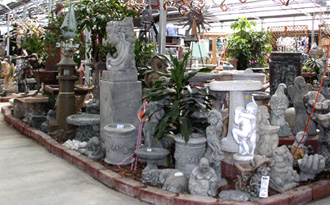 Outdoor Fountains
Many of the fountain pieces are running at our store so you can view the water pattern and hear the soothing sounds they utter.
Many unique designs of concrete are available from the finest manufacturers like; Henri, Massarelli, Campania, and Ornamental Garden Products.
Henri is the world's leader in original hand-crafted stone. The pieces are available in many different
finishes. You can special order any Henri item in your favorite finish. Browse their large catalog to find
the piece that is just right for you.



Built in LED lighting adds a new dimension to these
elegantly-designed water features from Henri Studio.
They look as stunning at night as they do in the daylight.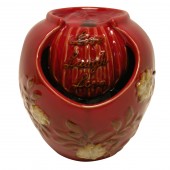 Tabletop Fountains

They can provide relaxation in key areas such as a busy work desk
or on a nightstand next to your bed. Just set one on the surface,
fill with water and plug it in. You're good to go. You'll feel relaxed and
rejuvenated almost instantly. Tabletop fountains make great gifts not
just for their beauty, but also the powerful effect that they bring.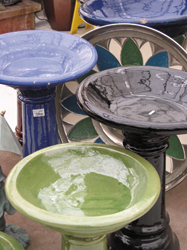 Birdbaths

Your feathered friends will appreciate it.
Many sizes, colors and styles.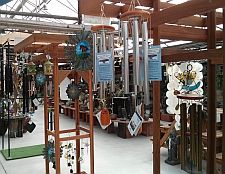 Wind Chimes

Finely-tuned chimes offer soothing melodies.
Wind chimes near the house offer unique and beautiful melodies.
They make great gifts also. Wide variety to choose from.
Garden Stakes

Exhart designs combine color and motion to add
fun and lively movement in a home or garden.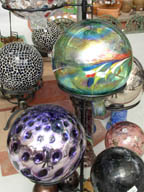 Gazing Balls

Decorate your garden with a gazing ball that
allows you to see all around in one glance.
Garden Flags

Premium flags are made of Solar Silk
polyester for greater durability.
Fade and mildew resistant.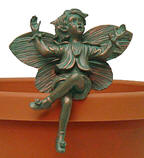 Miniature Gardens & Fairy Gardens

We have hundreds of accessory pieces for miniature gardens
including fairies and containers to house the entire garden.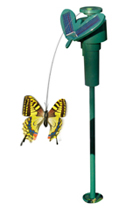 The Solar Fluttering Butterfly flutters around and around when the sun shines
and it looks like the real thing. You can even use it inside or after dark by
adding a regular battery. Add motion and color with this fun accessory.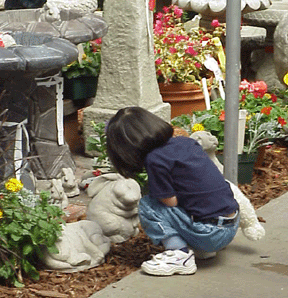 Garden Statuary
When it comes to garden statuary, we cater to the differing tastes of our customers. From elegant and stylish to whimsical and fun, you'll find an incredible selection to choose from.
Come in and make friends with some delightful
creatures in our garden statuary.